Jan 5, 2022 07:43 AM Central
Ila and Deanna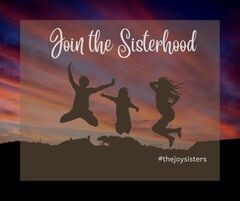 Who are the friends in your life that are more like family? More like sisters?
Did you get to spend time with any of them this holiday? I got to spend time with some great longterm friends this holiday and it reminds me of how blessed I am to be part of so many sisterhoods.
Believe it or not, my sisters and I were not always close.
Families can turn messy fast. There were three things that altered family life for me by the time I was twelve. We moved across the country. My great grandma died and then my parents got divorced. Moving into middle school, high school, and college my parents became absent dealing with their own emotions of being divorced and trying to make ends meet. As an adult there were even more experiences that altered family life for us. I'm sure many of you have similar stories.
What got me through middle school, high school, college and even young adulthood and now were my friends. New and old sisterhoods.
Over the years, we've lifted each other up, grew in faith together, experienced life together, cared for one another, celebrated together, bore each other's burdens and held each other accountable. We still do. Even through we've moved miles apart and there may be years between visits, we can get together and pick up right where we left off last. We are more like family or sisters than friends.
People say that family is more than blood and its true. My sisters have friends in their lives that are more like sisters than friends too. I believe it's these friendships and sisterhoods that have helped us learn to be a good parents and better sisters.
The three of us were able to repair relationships as we expanded our own families. When our mom got sick and passed away it highlighted for us that there were only three people in the world that really could understand what it was like to be us. Our sisterhood has become stronger and more important. We've been able to grow together in part because of the experience of our sisterhoods. Our sisterhood has gotten stronger and since we've joined an oily community and started our group and website our sisterhood has expanded.
It's never too late to expand your sisterhood.
Because we recognize and appreciate the importance of the sisterhoods in our lives we have created a community of #joysisters. In our group, Joy for Everyday Women, we want to create an online sisterhood of women who lift each other up, grow in faith and relationships, celebrate and support each other, and hold each other accountable for joy. This group is for strong and thoughtful women with a hint of sass who recognize how fragile happiness is. We know what a busy and overwhelming life feels like. We want to do better, feel better, and be better. Life is meant to be enjoyed! We believe it's time to give proper attention to those things that bring us joy! We share inspiration and ideas that motivate us toward wellness of body, mind, and spirit. In this group we support each other and share our joys and struggles.