Mar 5, 2021 07:40 PM Central
Ila and Deanna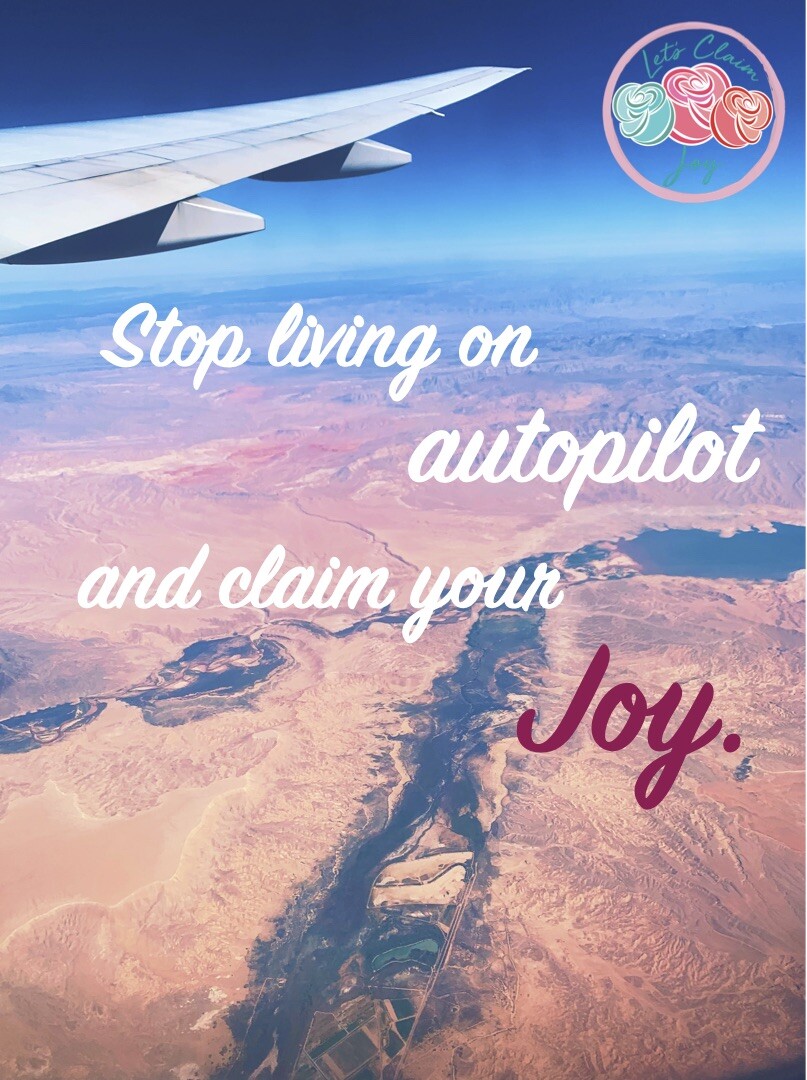 I saw a post recently that said, "stop living on autopilot, start living on purpose", and I've been reflecting on it ever since.
I believe that I was living stuck in autopilot before this pandemic. Were you? Are you?
Ever since I was young people have asked me, "Ila, how do you get so much done?" In high school, I was on several teams as captain (not because of skill but because I'm an encourager who tries hard). I had a part time job and good grades. In college, I took full loads every semester. One semester I took 21 credit hours while working three side jobs and holding a leadership role in the UMC campus ministry (Wesley Foundation). Crazy, I know! When I started full-time work, I was married, earned my Master's Degree, completed candidacy getting ordained as a UMC Deacon while I had 2 small kids and worked as youth director. I've since had two more littles, advanced in my career, started a girl scout troop, continue to work with youth, and now I've started this #joysisters journey. I know that's enough to make many people exhausted but I LOVE all the things I've been involved in.
To answer the question, "Ila, how do you get so much done?", I've set up a routine. I love scheduling and planning and organizing and it serves me well to accomplish the tasks that get those things done. I'd be remiss if I didn't also tell you that there are groups of wonderful friends and family around me that contribute as well. They are my village; eople I adore and love. Today, though, I want to focus on the routine part.
In my planning, I set a routine that allows me to do things without me having to put a lot of thought into them. Most of us probably do this getting ready in the morning, right. You have a certain order of waking up, brushing your teeth, showering, dressing, eating breakfast, packing lunches, etc….. I applied that same approach to entire days. After a few weeks into a new routine, I was automated. I could go through a day from task to task, activity to activity without having to put a lot of thought into it. I just needed to remember where I had to be next and what we needed when I arrived. So yes, I got a lot accomplished through routine.
Here's the thing…….. When I look back, I mostly remember being tired. Because my schedule was so jam packed, I didn't have enough time to rest. So any space my routine gave me to be in the present moment to enjoy the activity was sacrificed. Sacrificed to what? Nothing. I simply let everything pass me by.
You know how you can get in your car to go somewhere familiar and all of the sudden you have arrived? You are surprised and think, whoa…. I don't remember the drive? It feels like you went through a time warp. You know you must have gone a certain way but you can remember. You've spaced out.
That post, "stop living on auto-pilot, start living on purpose" has helped me to see that I've spaced out on big chunks of time…….like years! I have my memories, but routine had me living and relying on autopilot to the point I lost touch with my purpose for all those activities and relationships. Without a sense of purpose, you become lost. I was spacing out and lost in my day to day just wishing to be at the end of season or that I had accomplished a goal.
I've actually caught myself thinking things like that. Other women, are like…. "I wish time would stand still" or "I wish they could stay young forever" and I was like, "I can't wait for them to be more independent," or "I can't wait till we don't have to XYZ anymore," and "can we please skip the teen years!" In truth, I probably think all of this but it's the latter I feel most often.
I listened to part of a podcast the other day about jumping goals that relates here, I promise. The woman kept using "the body she wants" as an example which was really annoying to me but it was a decent illustration. She said if she jumped ahead and had the body she wanted tomorrow, she wouldn't be able to keep it. She wouldn't be able to maintain that "body she wants" because she wouldn't have gone through the trials and struggles to figure out how to get it. She wouldn't keep that body because she wouldn't have pride in the accomplishments that got her there.
She's talking about the importance of living the journey!
There are quotes after quotes out there that inspire living in the movement and enjoying the journey. I've read them. At work we even emphasize, the process is more important than the product. I tell my kids relationships are more important than things. [Ila slaps forehead here]. Ya'll it never sank in, until my mom got sick, the pandemic came, I read the post……
I've been stuck on auto-pilot and it's dulled my sense of purpose in the things I love and with the people I love. So each day I live on auto-pilot, I don't sacrifice "nothing", I sacrifice joy. It's not been taken from me. I've not been denied it. I've sacrificed it.
I will not sacrifice joy any longer.
[Ila pushes button, turns off auto pilot].
Let's claim joy together! If this message and others from our blog resonate with you, join our Facebook Community
Joy for Everyday Women
and we invite you to start using the hashtag #joysisters.